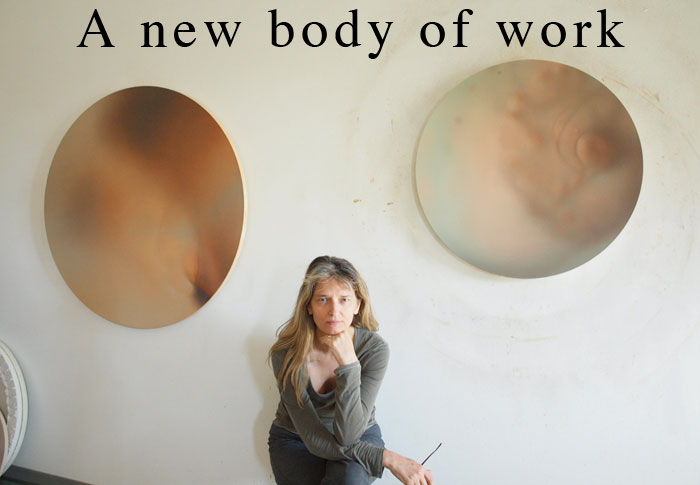 Catriona Black meets a long-lost daughter of Scottish Art (Full Version)
Tomorrow, the Royal Scottish Academy's annual exhibition opens its doors for the 186th time. But these days it's not just a members' show: there's also a curated exhibition within the exhibition, called The Artist's Studio. For this, 22 Scottish artists have been invited to reveal a little of what goes on behind closed doors.
The curators visited all their chosen artists, in Scotland and beyond. "The studios and the artists' perceptions of working spaces have proven to be as fascinating as they are diverse," says joint convener, Doug Cocker. "It seems to me that the public has always had a curiosity about artists' studios and what happens within them. I certainly do."
One of the studios furthest afield was that of Gwen Hardie, a long lost daughter of Scottish contemporary art. Twenty years ago, with her luminous close-ups of the female body, she was the youngest ever painter to enjoy a solo show at the National Galleries of Scotland. But already by then she had flown the nest; straight out of art college, the rising star was tempted to Berlin, to London, and finally to New York, where she still lives and works.
"Although I come back every year to see my friends and my family," Hardie tells me, "I haven't shown in Scotland for I don't know how long – apart from the McTear's auction [in Glasgow, 2008]. I guess you become curious as to the roots of your life, and I'm very interested in this Gaelic consciousness and a new chapter in Scotland."
Gaelic is on her mind right now, with two solo shows lined up in An Lanntair, Stornoway, in July, and Taigh Chearsabhagh, North Uist in January. After a long absence from Scottish galleries, it looks like Hardie's comeback is gathering momentum.
At the RSA, the artist will show a small selection of oil paintings and working drawings, with a short film by award-winning film-maker, Charlotte Lagarde; a contemplative insight into the painter's working life.
Though her technique has changed over the decades, Hardie's vision has, in essence, remained intact since her days at Edinburgh College of Art. One of the most obvious departures in the last few years is the shape of her canvas. Her pictures for the McTear's auction were among the first of her "tondos".
"At that stage I had just started painting in circular and oval forms," Hardie explains. "I've mined a deeper and deeper vein with that work, so I haven't returned to a rectangular format since then. I get very energised by this curvilinear format, without any corners. It keeps on doing new things for me."
For Hardie, the rounded shape holds many associations. "One of the obvious ones," she says, "is the optical lens; viewing through a lens or a microscope…and then in another way it has the very visceral, real, immediate relationship to how we look through our eyeballs, our retina, and I feel that these things are furthering the peculiar view that I'm taking of the body, and the skin's surface."
Hardie doesn't work from photographs; she paints directly from parts of her own body such as the wrist or the breast, capturing the play of light over and through the translucent surface. "It's truly remarkable the way that the human eye can take in different qualities of light at the same time," she explains.
"It's something we're doing all the time, but a camera, for example, trying to record the same light conditions, will go one way or the other. The camera is going to simplify the information… the camera can't do quite what I'm doing."
What Hardie is doing is capturing a physical moment in time. Not a split second, as a camera would, but a period of heightened attention, when all she does is focus on her own pulsing flesh, and paint.
"That's why the paintings are all titled with the day on which they were painted," says the artist. "If I try and come back the next day," she continues, "– and I've tested this so many times – I try and paint over the painting I did yesterday, because it's not quite there yet, and I just ruin the picture. It's like one pure concept on one day."
All of Hardie's pictures consist of only one layer of oil, painted wet into wet, which means that once she's started, she has only a limited amount of time before the paint begins to dry and lose its flexibility. "At the end I want the skin element of the painting, the film of oil paint, to have a cohesive, unified look."
"I'll just go hell for leather for about five hours in the studio," the artist continues, "and if it works, great. It often doesn't work." Rather than persevering with the same painting, Hardie then starts from scratch, repeating the exercise with only a few tweaks to colour, angle and so on. "All these different aspects are gradually coming into place through various attempts," she says, "so the one that does work will still only be done in three or four hours."
Hardie's finished paintings are a smooth blend of glowing colour and shifting intensity, soft and seemingly infinite. Her stark, linear preparatory drawings, on the other hand, can come as quite a shock.
"It's not exactly literal," she says. "It's the way the lines are intersecting that fascinates me, and the idea that in the skin there's a flexibility. So I'm imagining the interlocking interplanes on a larger scale – the piece of skin as a whole."
"It's not photorealism," she continues, "it's an interaction with reality in a moment: actually what I see in front of me. And there's also a lot of conceptual playing with that, and how to connect the body with the natural world at large – the micro macro thing – so when I'm drawing I'm thinking of the interconnectedness of everything. It's like the body is the earth, that very wide angle view of it."
Decades since her last gallery exhibition in Scotland, Hardie's unique paintings and drawings are at last back on home ground. And with great sincerity, that pleases her.
"My formative years as a child, and at art school, were very much in Scotland," she says, "and I bring that with me through my life. It feels very nice to be in New York, because New York is full of people just like me, who have a strong sense of coming from somewhere else in this world. Part of the reason that my voice never changes is that I would never want to change who I am essentially. I am a Scottish person who has wanted to travel and see the world, but that doesn't mean that I deny who I am."
The 186th RSA Annual Exhibition
28 April – 6 June 2012;  RSA, Edinburgh