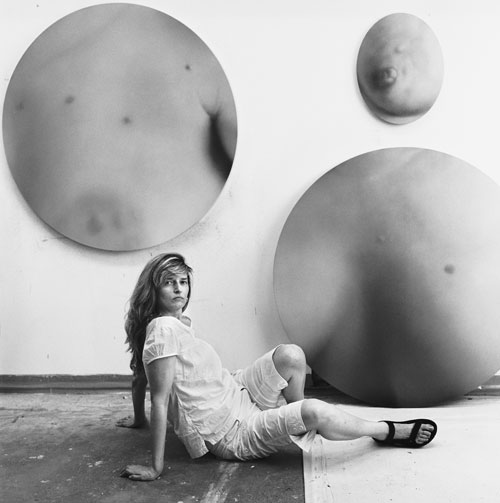 16.11.08
page 28/29
The Arts: Visual Art
Up Close & Personal
Photograph Alen MacWeeney
An auction in Glasgow brings the work of Scottish artist Gwen Hardie back to her homeland for the first time in years
by Catriona Black
Twenty years ago, Fife-born Gwen Hardie was Scotland's next big thing. Graduating with a distinction from Edinburgh College of Art, her extreme close-ups of the female body earned her overnight success.
In the 1980s the female nude was a controversial subject for a woman painter, some claiming that it was impossible to escape the centuries-old trap of sexist voyeurism. The fact that the young artist did escape this trap, by isolating tiny details of her body for intense scrutiny, earned her early critical attention, a place in textbooks of Scottish art, and a scholarship to train under revered German painter Georg Baselitz.
In 1990, at the age of 28, Hardie became the youngest ever living artist to hold a solo show at the Scottish National Gallery of Modern Art. That was almost the last time she showed in Scotland; heading from Berlin to London in the same year, Hardie finally settled in New York in 2000.
Now, in her home country, the artist is all but forgotten. When Alison Watt was fêted recently by the National Gallery in London as being, at the age of 35, "the youngest artist to be offered a solo exhibition at the Scottish National Gallery of Modern Art", nobody spotted the mistake.
But that's set to change. With a sale of contemporary art in the offing, McTear's Auctioneers in Glasgow contacted the artist "out of the blue", and Hardie jumped at the chance to take part. "I was excited to be given the opportunity to rekindle a connection to the art world in Scotland," she tells me from her home in Brooklyn. Her accent is an undulating mix of New York and Newport on Tay, which errs ever eastwards the longer we speak.
"I have a sense that people who remember me from the 1980s and 1990s will at least be curious as to how things have developed, but of course I have no idea how people will respond. It's a new and different Scottish art world to the one I knew then."
Brian Clements, Director of McTear's, considers it a coup to have got Hardie involved. "Gwen's involvement is very important to us," he says. "She was one of the first names on our list of targeted artists." Her paintings, in line with the auctioneers' radical new policy, will be offered at half of their usual market value.
The sale is an ambitious experiment: 450 contemporary Scottish paintings are sourced directly from artists, bypassing the gallery system along with its 50% mark-up. Damien Hirst hit the headlines with a similar strategy in September this year, making over £110 million at Sotheby's while the financial sector crashed outside its doors.
The auctioneers at McTear's hope for success at a more modest price, throwing down the gauntlet to "the elite private gallery network." If the auction succeeds in its objectives, they say, "it will cause ructions not just in Scotland and the UK, but throughout the art world".
Hardie's five contributions to the sale, one painted as recently as April this year, are monumental close-ups of her face and torso: the same as she did for her post-graduate diploma show 24 years ago. Although she has experimented with various approaches over the course of her career, and has left behind the expressionist brushwork of her early years, it's striking how little, in essence, Hardie's work has changed.
"I started at Edinburgh College of Art, in my post grad year, to unearth all the seeds of my future work", says Hardie. "It's amazing to me, looking back, how it was all there: the significance of the life model, the quality of light, the immediate sense of time caught in painting, life captured in the moment, the magnified view, and the decontextualisation of the body."
Studying from the life model was central to training at ECA, something which worked well for Hardie. "I couldn't get enough of it," she says, "I was working round the clock at evening classes in addition to the day classes in observing from life." But when it was time to work out her own unique vision, Hardie ran into problems.
"Nothing I did in any way convinced me", she remembers, "and Elizabeth Blackadder tried to assure me that my vision was already developing in the way I was approaching the life model." Sandy Moffat also encouraged the young artist to follow her instincts, as she created large-scale images of her own body "which I remember feeling shy about."
When Hardie left ECA in 1984, she was steeped in its traditional style of sensuous painting, but a prestigious scholarship in Berlin offered her the chance to break away. "When I left Scotland, I wanted to unlearn everything I had learnt," she says. Hardie studied for a time under the powerful expressionist painter Baselitz, whose postmodern experiments were a constant challenge to the traditional idea of figure painting.
"I played around with gestural strokes and expressionist color," remembers Hardie, "but it was really just part of exploring the new, with lots of curiosity of youth. Berlin was all about experimenting with influences. I loved being in the middle of Europe at the time, casting off all familiar formulas with abandon."
Hardie's works took on a new vigour, opening up the female body to reveal its inner workings in wild, primitive frenzies of colour, and using a sponge, or her hands and fingers to paint with. By 1990, Hardie "had worked through influences and come out the other end", and it was time to move on.
While London in the 1990s was home to the headline-grabbing BritArt generation, Hardie spent the decade there in quiet reflection. "It was a time of spiritual seeking," she recalls. "My work reflected more about my relationship to spiritual experiences and questions than other painters of that generation."
When in 2000 Hardie was given the opportunity to move to New York, she was quick on the uptake. "I have had a love affair with the New York School of painting since my first visit to the Tate at 18 years old," she says. Hardie immediately turned to abstraction, and her brush marks, once such a hallmark, were lost in a sheer, radiant paint surface. Having distilled her ideas as far as they could go, Hardie then returned, full circle, to painting magnified sections of the body and face.
And so, with increasing dexterity, Hardie has picked tiny areas of flesh and painted them wet on wet in no more than a day, to create smooth, luminous monuments to existence. For her, these are not portraits or self-portraits; they are a way of looking at our mortality, our precarious and fragile subsistence, inside this translucent skin.
"It's important to me that the body is revealed with no drama," explains Hardie, "but rather just so, in a state of being. This way, the act of perception, the wonder of looking and of being in a body, with all its fragilities and fleeting nature, becomes the subject."
Hardie has made it her life's work to perfect this one visual poem. "My journey in art is definitely the long way round," she admits, but with a clutch of paintings back on home ground, we can see for ourselves how far she has come.
Gwen Hardie's paintings are on show this week at McTear's Auction Galleries, Glasgow, as part of the Scottish Contemporary Art Sale. The Auction takes place on Saturday.